Princesses Kawaii Uniforms
Game Description:
This is Girls category game, created and developed by Bitent Media
The main character are Princess Princesses Elsa and her friends
There are many steps to enjoy this game with the main Princess Princesses Elsa and her friends
A unique activity
Easy-to-follow on-screen instructions
Platforms
This game is a web browser game (desktop and mobile).
Categorization
Girls games »Make Up games, Dress Up Games » Help them to get new look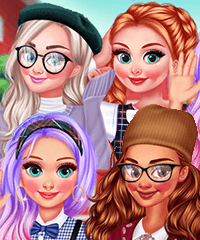 More information about Princesses Kawaii Uniforms game
Play new game
Princesses Kawaii Uniforms
for free online at our website Descendantsgames.org. As other games on our website, you can play this game in your browser, your mobile and enjoy it for free as well. In this game, you will help Princess Elsa and her friends to get new look. Very simple to play this game, you just use your mouse and click all the items as you like to help them get new look with the Kawaii Uniforms. In the first game, you help Princess Elsa to choose nice outfits with dress, new hairstyle, accessories such as glasses, hat, hand bag, ..After that, you will help Princess Moana to get the same thing as Princess Elsa.
This game is designed for every player, especially for ladies and girls because they like fashion style. They will surely like it. They can choose everything as they want. You can enjoy this game with your friends to come here. We are very happy about that. This game is simple but it is very funny and interesting. I hope that you will like this game and come back here to play more game. You can recommend your friends, your relatives to come here. You can enjoy Elsa games and enjoy everything related to Elsa on our website as well. Besides this game, you can enjoy other games with other categories such as Elsa games, Io Games, Baby Games, Sailor Moon Games, MLP Games,..in our game systems. If you have any idea or question about our games, please let us know. We are ready to answer them at every time.
How to play:
Mouse to play this game
Help Princess Elsa and her friends to get new look
Enjoy this game